2020-2021
MILITARY FRIENDLY®
SCHOOLS
VIEW THE LIST

BETTER FOR
VETERANS
FIND YOUR NEXT MISSION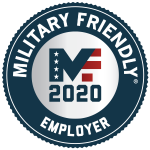 The Military Friendly® Company survey investigates and identifies the organizations whose commitment to serving the military and veteran community is comprehensive in scope and meaningful in terms of actual outcomes and impact. From hiring and career advancement to customer service and charitable investment, our 2019 Military Friendly® Companies lead the way.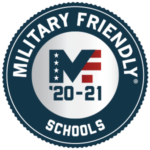 The Military Friendly® Schools survey is the longest-running most comprehensive review of college and university investments in serving military and veteran students. Our 2020-2021 Military Friendly® Schools list is more exclusive than ever, and covers institutions offering certificate programs to doctoral degrees.

WE KEEP SCORE
16+
1,429%
1,693
Years of creating sustainable benefit
Growth in employers completing the survey
Schools that completed the survey
WHY MILITARY FRIENDLY®?
Easiest. Answer. Ever. Because the Military Friendly® designation creates better outcomes for veterans. By setting a standard, then promoting it, we provide positive reinforcement for American organizations to invest in programs that improve the lives of veterans. That's good for veterans, good for the organizations and good for America.
WHAT DOES MILITARY FRIENDLY® MEAN?
Military Friendly® is the standard that
measures an organization's commitment, effort and success in creating sustainable and meaningful benefit for the military community. Now, let's unpack that. Because every word of that definition was purposefully chosen.
READ MORE