2021 MILITARY FRIENDLY® BRANDS LIST
OUR MILITARY FRIENDLY® BRANDS RATINGS CAPTURE BEST PRACTICES IN THE INVESTMENTS CORPORATIONS MAKE IN THE MILITARY AND VETERAN COMMUNITIES.
Continuing its mission to provide veterans and their spouses with the finest choices for employment opportunities, we have released the 2020 Military Friendly® Brands list.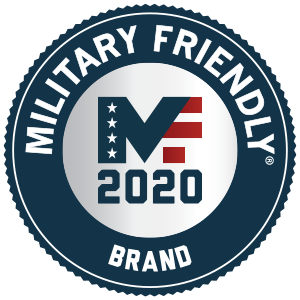 Since 2003, the Military Friendly® lists have set the standard for organizations to provide the best opportunities for veterans and military spouses. 
This prestigious list provides a comprehensive guide for veterans and their families using data sourced through a continuously improved methodology, criteria and weightings developed with the help of an independent research firm, and proprietary survey information from participating organizations.
Organizations earning the Military Friendly® Brands designation were evaluated using both public and government data sources with responses from a comprehensive survey completed by the employer. 
We are proud to recognize  employers earning this prestigious designation and truly representing what it means to be "Better for Veterans."
About Military Friendly® Brands:
The Military Friendly® Brands designation, one of four components of the Military Friendly® Companies ratings, measures a company's social and material investment in support of the military and veteran community, including consumer supports and protections. Organizations earning the Military Friendly® Brand designation were evaluated using public data sources, personal feedback from military community members, and responses from VIQTORY's proprietary survey in these areas:
TOP 10 MILITARY FRIENDLY® BRANDS