COMPANIES ON THE MILITARY FRIENDLY® SUPPLIER DIVERSITY LIST ARE EAGER TO DO BUSINESS WITH VETERANS BECAUSE IT'S GOOD FOR THE BOTTOM LINE.
A unique aspect of the Military Friendly® program is its extension across four pillars: veteran employment, military spouse employment, military consumer services and protections, and veteran-owned business supplier programs.
The Military Friendly® Supplier Diversity list identifies 91 companies that demonstrate their commitment to the veteran community by the extent to which they include veteran-owned businesses in their supplier diversity programs. These corporations are eager to do business with vetrepreneurs because it's good for the own bottom line.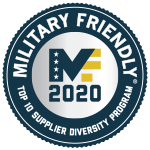 If you're looking for corporations to partner with, the Military Friendly® Supplier Diversity list is a great place to start.
The Military Friendly® Supplier Diversity Program list is created each year based on extensive research using public data sources for more than 8,800 employers nationwide, and responses to the proprietary, data-driven Military Friendly® Companies survey from participating companies.
The survey questions, methodology, criteria, and weighting were developed with the assistance of an independent research firm. Ernst & Young, a global leader in assurance, tax, transaction, and advisory services, independently evaluated the scoring methodology used for the Military Friendly® Supplier Diversity Program list using the criteria set forth by VIQTORY. The services performed by EY are limited to advisory procedures and do not provide assurance over the scoring methodology. The survey is administered for free and is open to all employers that wish to participate.
See the full press release here
TOP 10 MILITARY FRIENDLY® SUPPLIER DIVERSITY PROGRAMS
2020 MILITARY FRIENDLY® SUPPLIER DIVERSITY PROGRAMS
| | | |
| --- | --- | --- |
| ADP | Business Services | Over $5 Billion |
| AECOM | Defense | Over $5 Billion |
| AT&T | Telecommunications | Over $5 Billion |
| Adecco Group | Business Services | Over $5 Billion |
| Ameren | Energy, Extraction, and Utilities | $1 Billion to $5 Billion |
| American Red Cross | Charitable and Human Services | Gov./Non-Profit |
| American Water | Energy, Extraction, and Utilities | $1 Billion to $5 Billion |
| Anthem, Inc. | Health and Pharmaceutical Services | Over $5 Billion |
| Archer Daniels Midland Company | Manufacturing | Over $5 Billion |
| Baxter Healthcare Corporation | Health and Pharmaceutical Services | Over $5 Billion |
| Bayer U.S. LLC | Health and Pharmaceutical Services | Over $5 Billion |
| Bison ProFab, Inc. | Manufacturing | Less than $500 Million |
| Boeing | Manufacturing | Over $5 Billion |
| Bristol-Myers Squibb | Health and Pharmaceutical Services | Over $5 Billion |
| CACI International Inc. | Defense | $1 Billion to $5 Billion |
| CVS Health | Health and Pharmaceutical Services | Over $5 Billion |
| Cintas | Business Services | Over $5 Billion |
| Citi | Financial Services and Banking | Over $5 Billion |
| Citizens Bank | Financial Services and Banking | $1 Billion to $5 Billion |
| Combined Insurance, a Chubb Company | Insurance | $1 Billion to $5 Billion |
| Comcast NBCUniversal | Telecommunications | Over $5 Billion |
| Corizon Health | Health and Pharmaceutical Services | $1 Billion to $5 Billion |
| DaVita, Inc. | Health and Pharmaceutical Services | Over $5 Billion |
| Dominion Energy, Inc. | Energy, Extraction, and Utilities | Over $5 Billion |
| DynCorp International | Defense | $1 Billion to $5 Billion |
| FirstEnergy | Energy, Extraction, and Utilities | Over $5 Billion |
| General Dynamics Information Technology | Information Technology | Over $5 Billion |
| General Dynamics Mission Systems | Defense | Over $5 Billion |
| Guidehouse | Business Services | $500 Million to $1 Billion |
| HP Inc. | Information Technology | Over $5 Billion |
| Haywood Vocational Opportunities | Health and Pharmaceutical Services | Gov./Non-Profit |
| Health Care Service Corporation | Insurance | Over $5 Billion |
| Hewlett Packard Enterprise | Information Technology | $1 Billion to $5 Billion |
| Hilton | Hospitality | Over $5 Billion |
| Horizon Blue Cross Blue Shield of New Jersey | Insurance | Gov./Non-Profit |
| IBM | Information Technology | Over $5 Billion |
| Ingersoll Rand | Manufacturing | Over $5 Billion |
| JCPenney | Retail Consumer Goods | Over $5 Billion |
| JLL | Real Estate | Over $5 Billion |
| JPMorgan Chase & Co. | Financial Services and Banking | Over $5 Billion |
| Kaiser Permanente | Health and Pharmaceutical Services | Gov./Non-Profit |
| LAUNCH Technical Workforce Solutions, LLC | Air and Rail Transportation | Less than $500 Million |
| La Quinta by Wyndham (LQ Management, LLC) | Hospitality | $500 Million to $1 Billion |
| Leidos | Information Technology | Over $5 Billion |
| Lexmark International, Inc. | Information Technology | $1 Billion to $5 Billion |
| Lockheed Martin Corporation | Defense | Over $5 Billion |
| Lowe's Companies, Inc | Retail Consumer Goods | Over $5 Billion |
| ManTech International | Information Technology | $1 Billion to $5 Billion |
| MassMutual | Insurance | Over $5 Billion |
| McKesson Corporation | Health and Pharmaceutical Services | $1 Billion to $5 Billion |
| Merck & Co., Inc. | Health and Pharmaceutical Services | Over $5 Billion |
| MetLife | Insurance | $1 Billion to $5 Billion |
| Methodist Health System | Health and Pharmaceutical Services | Gov./Non-Profit |
| Morgan Stanley | Financial Services and Banking | Over $5 Billion |
| Navient Solutions LLC | Business Services | $1 Billion to $5 Billion |
| Nielsen | Information Technology | Over $5 Billion |
| Norfolk Southern Corporation | Air and Rail Transportation | Over $5 Billion |
| Northwell Health | Health and Pharmaceutical Services | Gov./Non-Profit |
| Olympus Corporation of the Americas | Health and Pharmaceutical Services | $1 Billion to $5 Billion |
| Omni Financial | Financial Services and Banking | Less than $500 Million |
| Oshkosh Corporation | Manufacturing | $1 Billion to $5 Billion |
| Pacific Gas & Electric Company | Energy, Extraction, and Utilities | $1 Billion to $5 Billion |
| Principal | Financial Services and Banking | Over $5 Billion |
| Prudential Financial, Inc. | Financial Services and Banking | Over $5 Billion |
| Public Service Enterprise Group | Energy, Extraction, and Utilities | Over $5 Billion |
| RTI International | Charitable and Human Services | Gov./Non-Profit |
| Randstad USA | Business Services | Less than $500 Million |
| Regions Bank | Financial Services and Banking | Over $5 Billion |
| Shell Oil Company | Energy, Extraction, and Utilities | Over $5 Billion |
| Southern California Edison | Energy, Extraction, and Utilities | Over $5 Billion |
| Southwest Airlines Co. | Air and Rail Transportation | $1 Billion to $5 Billion |
| Sprint | Telecommunications | Over $5 Billion |
| T-Mobile US, Inc. | Telecommunications | Over $5 Billion |
| Tennessee Valley Authority (TVA) | Energy, Extraction, and Utilities | Gov./Non-Profit |
| The GEO Group, Inc. | Business Services | $1 Billion to $5 Billion |
| The Goodyear Tire and Rubber Company | Manufacturing | Over $5 Billion |
| The Home Depot | Retail Consumer Goods | Over $5 Billion |
| The Procter & Gamble Company | Retail Consumer Goods | Over $5 Billion |
| Travelers | Insurance | Over $5 Billion |
| USAA | Financial Services and Banking | Over $5 Billion |
| United Rentals, Inc. | Business Services | Over $5 Billion |
| UnitedHealth Group | Health and Pharmaceutical Services | Over $5 Billion |
| VERIZON | Telecommunications | Over $5 Billion |
| Vectrus Systems Corporation | Defense | $1 Billion to $5 Billion |
| Walmart | Retail Consumer Goods | Over $5 Billion |
| Wells Fargo & Company | Financial Services and Banking | Over $5 Billion |
| Werner Enterprises | Trucking and Transportation | $1 Billion to $5 Billion |
| Windstream Communications | Telecommunications | Over $5 Billion |
| Worthington Industries | Manufacturing | $1 Billion to $5 Billion |
| Xcel Energy | Energy, Extraction, and Utilities | $1 Billion to $5 Billion |
| Zeiders Enterprises Inc. | Charitable and Human Services | Less than $500 Million |